DEI
Diversity, Equity and Inclusion
VoxComm's network extends across the world and is therefore plural. Diversity, equality and inclusion are three fundamental values that the global agency alliance aims to boost.
Global DEI Census 2023 Top Findings
Nearly one in seven members of the global marketing industry say they would leave our industry on the back of a lack of diversity, equity and inclusion, according to responses to the 2023 Global DEI Census.
The picture is even worse among certain groups, with 16% of women (almost 1 in 6), 17% of LGBQ+ (1 in 6), 22% of ethnic minorities (more than 1 in 5) and 24% of disabled respondents (almost 1 in 4) say they are likely to leave. Younger professionals (25-34 years) and caregivers are also slightly more likely to leave than the global average (18% vs 14%).
The overall one in1 in 7 figure remains the same as that found by the first Global Census on DEI in 2021 despite all the efforts that companies have made to increase diversity, retain talent and improve their appeal to potential employees around the world.
Other key findings include:
➡ LGBQ+ respondents report worse lived experiences at work than their heterosexual counterparts
➡ The number of disabled respondents has improved compared to 2021 (10% vs 7%) and is closer to the global benchmark of 15%
➡ 27% of respondents agree that "my work is having a negative physical impact on health and mental health"
Every Voice Matters
---
On March 15, the global advertising and marketing industry is rallying behind the Global DEI Census 2023. This is a global and independent 15-min survey investigating people's experience in our industry. Respondents will be asked about their demographic profile including race/ethnicity, religion, age (in accordance with local legal frameworks) as well as their experiences at their place of work.
Hearing your views will be a critical step to making our sector more diverse and inclusive. This is vital because many industry efforts have been strained or delayed by the unique pressures of the pandemic, to such a point that, in 2021, one in seven people working in marketing said they would likely leave their company or the industry.
Responses are entirely anonymous and cannot be traced back to respondents.

The data will help inform an action plan for change and the industry will re-run this research to measure progress.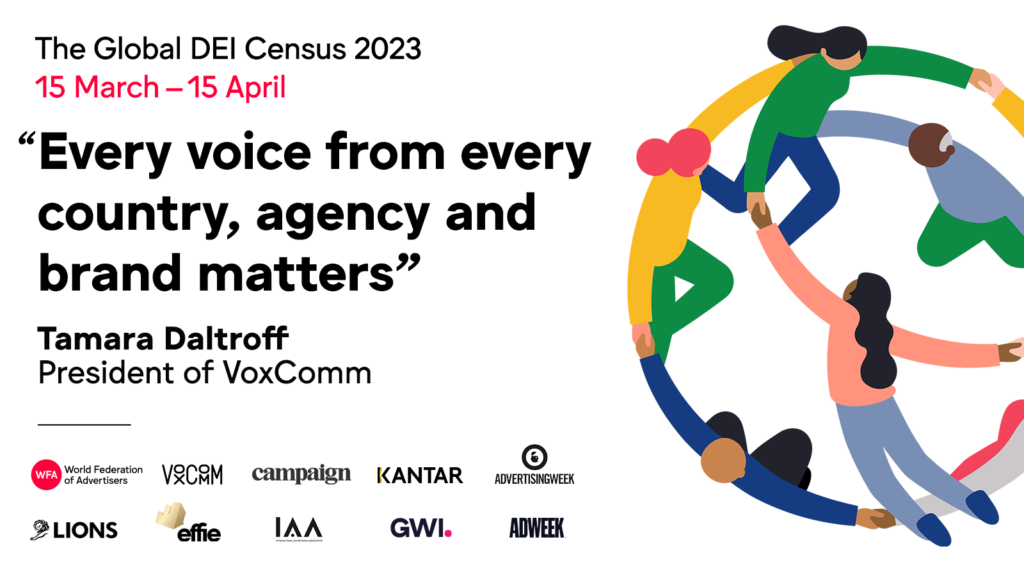 About the Global DEI Census
---
From March 15 to April 15, the marketing industry is once again coming together to support the Global DEI Census, which is the first and only independent global survey of its kind. After a first successful census in 2021, this new edition will shade some light on the evolution of how individuals perceive inclusion and discrimination in our field.
The initiative represents the biggest ever global cross-country collaboration between WFA, VoxComm, Campaign, Kantar, Advertising Week, Cannes Lions, Effie Worldwide, IAA, Global Web Index (GWI) as well as over a hundred other industry organisations. It is also supported by major global companies including L'Oréal, Phillips and Danone and agency holding groups like WPP, dentsu, McCann and Havas.
It will run alongside UK's All In Census led by the Advertising Association, IPA and ISBA, and will be driven by local industry coalitions in 33 markets. These markets are Argentina, Brazil, Canada, Finland, Germany, Greece, Hong Kong, SAR, Italy, Ireland, India, Japan, Malaysia, New Zealand, Netherlands, Norway, Pakistan, Philippines, Poland, Portugal, Singapore, Slovenia, South Africa, Spain, Sweden, Switzerland, Turkey, the Gulf Cooperation Council (Bahrain, Kuwait, Oman, Qatar, Saudi Arabia, UAE), and USA. Marketing professionals in other markets will also be able to take part by completing a shorter version of the survey, helping give a full picture of the situation at a global level.
Resources
---